Hastings Manufacturing can design the entire press process for your application with our experienced engineering team. Integration of proper automation and tooling for hot stamping and heat transfer is essential to producing good parts.
We manufacture and/or integrate complete tooling sets including machined aluminum holding fixtures for your part and contoured dies. Send us your drawings and let us show you how we can provide the total solution for your needs.
Integration of Dies and Automated Equipment
Whether your part is decorated on a round or flat surface, Hastings is able to provide accurate positioning of your graphics. Our dies and automated equipment are tested with the press for absolute precision timing and part accuracy. We monitor the temperature, pressure, position, automation and timing to create the perfect transfer for your needs.

We monitor the temperature, pressure, position, automation and timing to create the perfect transfer for your needs.
Hastings provides a seamless integration into your production line, with the leading customer support in the industry, and provide solutions to reduce your scrap rates.
Our goal is to make the entire process easy to use with accurate and repeatable parts to fit your cycle requirements. We are experienced in providing simple setup with quick tooling changes for efficient processes. Proper part placement and alignment of the die through automation is the key to to the perfect labeling process.
Jackscrews and alignment pins can be added to help position the part, and we provide numerous options to ensure that your part is orientated in the right way with the proper graphic. Part Sensors can be integrated with the controls to detect
Silicone Rubber Dies vs. Metal Dies
Silicone Rubber dies
are used to stamp onto rigid base materials. The process is a faster and more flexible process than with metal dies. It compensates for surface irregularities and variable material thicknesses and may bond to a wide range of shapes and contours.
Metal dies
are used to stamp more flexible base material. The image is adhered utilizing a slower and rigid process that imbeds the foil/ transfer into the surface of the material. It is limited to vertical parts but utilize higher temperatures for high strength applications. Metal Dies have excellent heat recovery time and can be used with increased pressure requirements. They are ideal for leather, fabrics and paper (plus much more).
Other Silicone Rubber Products
Hastings has a wide range of supplementary press and die equipment for your process. Contact your sales representative for more information.
Tooling and Fixtures
A very important feature of a hot stamp or heat transfer press that is often over-looked, tooling and fixtures support and locate the part during the decoration process. A precise mount is required to accurately locate and evenly support the part. Accurately matching the tooling to the piece being decorated helps to ensure the decoration is located in the same place each time. Properly distributed support provides even pressure ensuring proper adhesion and appearance.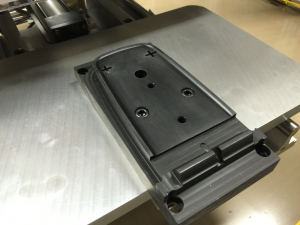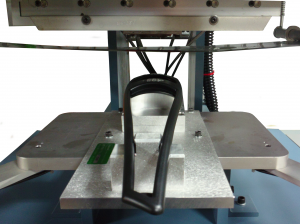 Refurbishing
Hastings is experienced in re-engineering and reconditioning equipment for full restoration. We will update your equipment and make it more effective with the latest in components and technology. Our engineers will inspect the machine for wear and faulty components and work to improve the press`s performance. Additionally, we will evaluate your application and design the press to be more efficient for your processes.
Benefits to refurbishing may include (but are not limited to): precision positioning and automated placement, increased flexibility and cycle time, updated controls and/or power system, added product life and upgraded safety equipment. We are also able to integrate your press and provide a turnkey solution for your automated processes.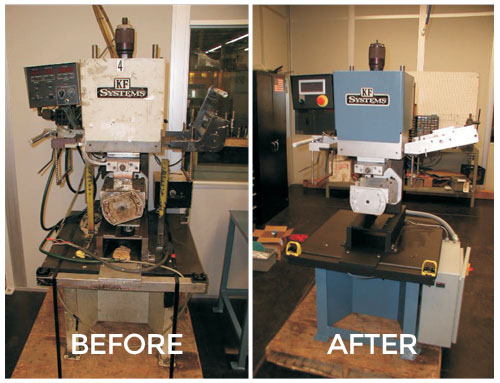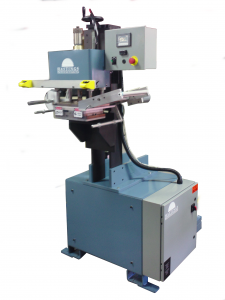 Training and Customer Support
Excellent service continues after delivery by experienced technicians who provide phone and e-mail assistance for questions ranging from simple maintenance to complex technical issues. We pride ourselves in responding to customer questions with information and solutions in a timely and professional manner.